---
Pros and cons of academic and private practice
Different paths offer different benefits
---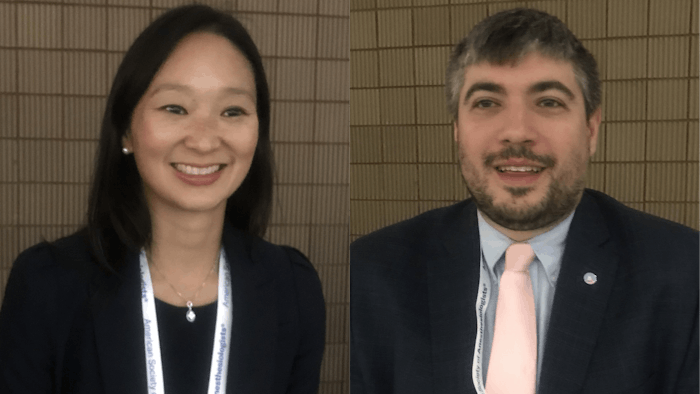 RF03 - Pros and Cons of Academic and Private Practice
Saturday, October 22, 2022
Choosing academic practice or private practice for your first job is not always easy or obvious. To help residents consider the different paths, Marianne Chen, MD, and John Sours, MD, answered resident questions based on their own experiences in the Saturday session "Pros and Cons of Academic and Private Practice."
Dr. Chen, who is a Critical Care Medicine Specialist in Stanford, California, said she knew early an academic practice would be in her future because she loves teaching and working with residents. Dr. Sours, Assistant Professor of Clinical Anesthesia at Indiana University in Bloomington, originally worked for a large private practice group serving 11 facilities around Indianapolis. "Our group was purchased by one of the hospitals," he said, "and I had the choice to join the academic practice." 
They advised residents to honestly ask themselves what the most important factor is as they seek their first placement. "I wanted to work solo with a focus in liver transplants. I wanted to hone my skills," said Dr. Chen.
Desiring to work in trauma, big vascular, and neuroanesthesia, Dr. Sours said he wanted to decide what his own niche would be as he got experience. "I sought to find the cases that were interesting to me. In private practice, the more available you are, the better you will do," he said. "When I shifted to academic practice, my intent was to have more control of my time and have work-life balance with my family. The key is to be honest with yourself and your practice." 
As they moved from resident to attending in each setting, there were notable changes to navigate. For the private practice perspective, Dr. Sours said there are lots of people around to help residents. "As you move to attending, you find out how few people actually are there. You need to plan for that. It forces you to be more forward-thinking, from when you are going to eat to when you get supplies."
For Dr. Chen, the biggest plus to working in an academic practice is the bounty of resources around all of the time. "Our academic practice has good access to the latest and the greatest. I am surrounded by experts in the field and world-renowned medical professionals. I feel challenged all of the time. It makes me feel as though my knowledge is growing and evolving, and I am trying new things on a daily basis."
Both Drs. Chen and Sours recommended residents always ask pointed questions about an organization's culture to make sure it is a fit.
"The job market is favorable to the applicant right now because there is a shortage of anesthesiologists. They are looking as much for someone who can work in their culture as you want to fit in to their culture," said Dr. Sours.
They discussed other aspects that may not seem obvious to residents in their early pursuits.
"Billing, billing, and more billing in private practice," said Dr. Sours. He likened learning the billing system in private practice to learning a completely new language. On the flip side, he said he appreciated seeing what his work generated in productivity. He also suggested that residents ask about a practice's stance and experiences in light of the No Surprises Act and negotiating contracts.
"Your first job is not going to be your last job. Few people start in academia and end the career there," said Dr. Chen. "Start somewhere and see how it goes. Do not put so much stress on yourself to get that first job starting out right."
Visit Annual Meeting Daily News for more articles.