---
Retirement: Ready, set, go!
A graceful and well-planned exit
---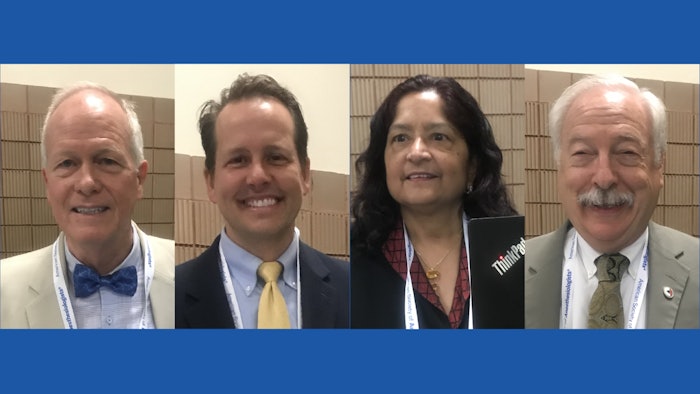 PN122. Retirement: Ready, Set, Go!
Saturday, October 22, 2022
Are you ready to hang up the stethoscope? Or are you considering the prospect? Four speakers in the Saturday session "Retirement: Ready, Set, Go!" provided their suggestions and advice.
Moderator Aaron Tebbs, MD, FASA, who sits on the ASA Ad Hoc Committee on Retired Member Engagement, pointed to a 2019 survey of anesthesiologists that revealed the silver tsunami in the 2008 to 2021 cohort of retired members wanting to contribute even in retirement but feeling disenfranchised.
"We need to do a better job of reaching out to anesthesiologists in retirement," he said, saying the committee was taking ideas and suggestions on how to better support retired colleagues.
Andrew Herlich, DMD, MD, FAAP, FASA, explored how anesthesiologists can make a graceful retirement versus succumbing to a fall from grace. He recommended discussing retirement thoughts with your family, your partners, your employer, and insurance carriers and then providing at least six months of warning. In his own case, Dr. Herlich provided 18 months notice because he had both administrative and clinical responsibilities. "I wanted to give the chair and vice chair sufficient time to train my administrative replacement."
Dr. Herlich advised anesthesiologists to watch for things in themselves or colleagues, such as cognitive decline, behavioral changes, physical lapses, errors in patient management, recordkeeping mistakes, and less effective communication with colleagues.
Rita Patel, MD, FASA, encouraged attendees to actively get their ducks in a row.
"Pre-retirement planning equates to post-retirement happiness," she said. The main challenges of retirement, she said, are switching off, adjusting the routine, and loss of identity. Other challenges include anxiety because you have more time but less money, you worry about health, the feeling of isolation and loss of social interaction, and feeling less useful, important, or self-confident.
If you prepare for how much change will occur, it will make for a happier retirement. Dr. Patel recommended setting smart goals to address the mental, physical, social, and financial aspects of retirement, and identifying activities in each of these categories to keep active. You may not have a regular 9-to-5 job any longer, but you should proactively plan activities devoted to keeping you active and sharp, she said.  
"One of the most valuable assets in our retirement is time," said Dr. Patel.
And with more time on your hands, Mark Singleton, MD, FASA, strongly advocated volunteer service. He even encouraged attendees to start volunteering locally as well as on missions. 
"It has been the single most personally rewarding professional contribution and experience in my career," Dr. Singleton said. 
To get started, he suggested investigating resources such as the ASA website and faith-based organizations. There is no shortage of opportunities.
"One of the great things of a volunteer mission is you become part of the community," he said.
Finally, he cautioned the attendees to keep their credentials up to date for two years after their official retirement, so they do not encounter any issues with providing services. 
Visit Annual Meeting Daily News for more articles.