---
Attendee reflections from special ASA annual meeting
Pandemic gives new meaning to learning, connecting.
---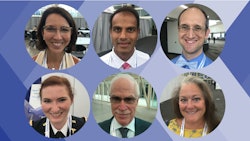 As the final day of a pandemic-era conference draws to a close, attendees are reflecting back on what influenced them the most at ANESTHESIOLOGY 2021. For its 2021 Question of the Day, the Anesthesiology Today Annual Meeting Edition asked attendees, "What's been a highlight for you at the 2021 ASA annual meeting?"
"Oh, absolutely, the keynote with Doris Kearns Goodwin. And the WLM History Panel about Dr. Freeman Allen."
    Sonya Pease, MD, MBA
    Cleveland Clinic Florida
    Stuart, Florida
"That is a tough question: I am not trying to fulfill my CME this year. It is hard to get CME hours and do everything else. So, I have been able to actually enjoy the lectures, posters, and exhibits in a more leisurely fashion. I loved the Rovenstine Lecture, too. I may go buy the book!"
    Srinivas Yendru, DO
    Wichita, Kansas
"I am a bit of a nerd. I like learning new methods in neuromuscular blockade. EMG was new to me." 
    Conrad Myler, MD
    Penn State University
    Hummelstown, Pennsylvania
"There was a great lecture this morning on mechanical circulatory support for the non-cardiac anesthesiologists. And I appreciate seeing my colleagues in their lectures."
    Kelly Ivins-O'Keefe, MD
    Brooke Army Medical Center
    JBSA Fort Sam Houston, Texas
"The Rovenstine Lecture this morning ('My Love Affair with Anesthesia') was over-the-top good. And the Keynote with Doris Kearns Goodwin was very interesting with the questions and answers."
    Robert W. Brandt, MD
    Carmel, Indiana
"Two things: reconnecting with colleagues after such a long time. It is so important to me to sit down with friends from New York or Chicago to catch up with what is going on with them. Second, exploring an area outside of my practice." 
    Cinnamon Sullivan, MD
    Emory University Healthcare
    Atlanta, Georgia
Visit Anesthesiology Today Annual Meeting Edition for more articles.