---
Lee Fleisher shares his goals for aligning standards, quality
New CMS CMO and Director is focusing on health care quality, equity, and resiliency.
---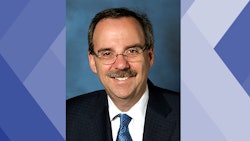 In July 2020, Lee A. Fleisher, MD, newly named Chief Medical Officer and Director of the Center for Clinical Standards and Quality for the Centers for Medicare & Medicaid Services, began evaluating all national clinical, quality, and safety standards for health care facilities and providers as well as establishing coverage determinations for items and services that improve health outcomes for Medicare beneficiaries.
In yesterday's session "The Health Care Ecosystem Post-Pandemic: A CMS Perspective," Dr. Fleisher shared his overarching calls to action for CMS to help implement policies that improve health care quality, safety, and resiliency as we emerge from the pandemic. Those goals include:
·     Asking the right questions: "We need to ensure we are collecting the appropriate data, including quantitative and qualitative," Dr. Fleisher said. "We need to define measures for intended purpose and focus on 'system-ness' and orient around what matters most for patients."
·      Turning data into information: "We need to use available levers for quality improvement and change," Dr. Fleisher said.
·      Bringing other disciplines into problem-solving. "We need to expand the ecosystem to include implementation and social science and focus on answering the 'why so?' and 'so what?'" he said.
·      Seizing the opportunity to create an equitable health system for all, which includes stratifying data based on ethnicity and asking patients how they self-identify. "If we don't have equity, we don't have quality," Dr. Fleisher said. "We need to make sure we're listening."
·      Supporting health care organizations. "It's important to support health care organizations now so they are ready to emerge from COVID-19 better positioned to improve quality, including safety, for patients," Dr. Fleisher said.
As part of the regulatory process, all proposed rules, including those that affect health care, have a public comment period.
"The public has a huge impact on how rules are finalized," Dr. Fleisher said. "The ASA does an excellent job of providing comments to all of our proposed rules, but individuals can provide comments, too. We take them very seriously."
Visit Anesthesiology Today Annual Meeting Edition for more articles.