---
Rovenstine Lecture a tribute to a pioneer and mentor
Steven Shafer, MD highlights the contributions of Edmund "Ted" Eger, MD.
---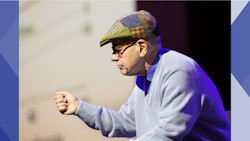 On Monday, Steven L. Shafer, MD, delivered a moving performance in tribute to the late Edmund "Ted" Eger, MD, the anesthesiologist and scientist who pioneered the development of modern inhaled anesthetics, during the Emery A. Rovenstine Memorial Lecture. A close friend of Eger for many years, Dr. Shafer titled his talk,  "Ever Eger: My Love Affair with Anesthesia." Dr. Shafer is Professor of Anesthesiology, Perioperative and Pain Medicine at Stanford University.
Donning a plaid newsboy hat and a pale blue crew neck sweater and shedding his tie, Dr. Shafer began by reading excerpts from Dr. Eger's autobiography while in character. As the editor of Dr. Eger's autobiography: Autobiography of a Persistent Anesthesiologist, which was published by Wolters Kluwer on October 1, 2021 (with royalties donated to the Foundation for Anesthesia Education and Research, Dr. Shafer worked closely with Dr. Eger to perfect the book.
"I rearranged the text, but when it came to science, I edited with caution. Ted was a precise writer. For over a year, we drove each other crazy, sending chapters back and forth," Dr. Shafer said.
Dr. Eger died on August 26, 2017, one week shy of his 87th birthday. In ASA's premier annual meeting event, Dr. Shafer embodied the legendary anesthesia pioneer, bringing him back to life, if only for an hour, by sharing Dr. Eger's story in his own words excerpted from his autobiography.
In his early years, Dr. Eger was a poor student. "I ended my first semester in high with three Ds, including in science. But I liked chemistry," Dr. Shafer as Dr. Eger said. Selling shoes at Maling's Shoes in Chicago during Dr. Eger's junior year of high school led to an epiphany: "Selling shoes was hard work for little money. If I didn't improve academically, I might spend my life at Maling's. It was my ah-ha moment," Dr. Shafer as Dr. Eger said.  
After enrolling in Roosevelt University, academic success became like an addiction. "I studied like mad. I wasn't a brilliant student, but I was persistent," Dr. Shafer as Dr. Eger said. Quoting Calvin Coolidge, "Persistence and determination alone are omnipotent."
At Northwestern Medical school, Dr. Eger, then an untrained intern, took an anesthesia call, unsupervised, which was common in the 1950s. Falsely believing he may have killed a patient led to profound terror and his second epiphany: "Anesthesia is powerful. It's life and death every day. I want to become an anesthesiologist," Dr. Eger as Dr. Shafer said.
In 1956, as a medical resident at the University of Iowa, Dr. Eger attended a lecture by fellow resident John Severinghaus, who was a year ahead in school.
"John's lecture on how highly soluble anesthetics had slower onset than poorly soluble anesthetics changed my life," Dr. Shafer as Dr. Eger said. Dr. Eger's intellectual curiosity led him to develop simple equations that described anesthetic molecules into and out of the body. "I saw the equations breath by breath. It took me days to calculate just one or two minutes of anesthesia," Dr. Shafer read from the book.
Dr. Eger's intellectual curiosity and persistence led to the introduction of the minimum alveolar concentration, or MAC, which quickly became the standard measure of the potency for anesthetic gases. Dr. Eger's persistence also led to identifying processes for the uptake and distribution of inhaled anesthetics and the precise guidance on how to administer anesthetics safely and effectively during surgery.
"The concepts Ted developed over his 60-plus year career were seminal and exhaustive. Ted's autobiography is the story of who we are, what we do and why we do it," Dr. Shafer said. "We do it because we love harnessing the power and mystery of anesthesia. We do it because we love the routine miracle of guiding our patients to healing and relieving their suffering. Ted devoted himself to anesthesia because he loved anesthesia. That's what I learned from Ted. We do it for love."
Visit Anesthesiology Today Annual Meeting Edition for more articles.