---
Finalists seek late-stage investment in Swimming with Sharks
Stiff competition yields promising results.
---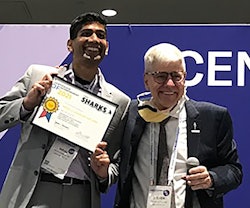 A multiport suction breathing tube, a central line filtration system, and an anesthesia gas reclamation system were the product finalists in this year's Swimming with Sharks program.
Company representatives for the three finalists presented their company origin, mission, progress, financial performance, and investment needs to a "shark," who then challenged everything from their return on investment to the size of their company's potential market. Steve Shafer, MD, an Anesthesiologist with Stanford University Medical Center, moderated the session.
In introducing the session, Dr. Shafer said it is one thing to pitch a product concept to peers at a science event such as ANESTHESIOLOGY 2021 and quite another thing to pitch to investors. The Swimming with Sharks competition, which this year drew 36 competitors, is designed to ask the tough questions and prep the young entrepreneurs for the next steps in their company evolutions.
Confessing that he considers himself a "serial entrepreneurial flop," Dr. Shafer pointed to Theodore Stanley from the University of Utah who famously introduced his idea of a fentanyl lollipop to treat breakthrough cancer pain as the launchpad of anesthesiologists as entrepreneurs with great ideas and validation of Swimming with Sharks.
The first presenter was Benjamin Wang, MD, founder and Chief Medical Officer of NeVap, who was interviewed by shark Dennis Fisher, MD, a medical consultant. NeVap is a six-year-old company that seeks to replace leaky breathing tubes, which he said have the potential of incurring pneumonia, with his multiport subglottic suction ETT. Dr. Wang said his device reduces time on mechanical ventilation, reduces overall mortality, will suction regardless of vacuum setting, and is less likely to cause tissue damage. He pointed to COVID-19 as accelerating the number of ventilator-associated infections and hospitals' need for his product.
The second presenter was Nirav Kamdar, MD, Medical Advisor to HAI Solutions, who was interviewed by shark Barrett Larsen, MD, an Anesthesiologist with Stanford Health Care, about his disease-free central line filtration system. Dr. Kamdar said current devices lack the closed loop design and filter capacity needed to effectively administer multiple products of variable viscosity with the highest level of safety. Due to the rapid sequencing of multiple induction medications, proper cleaning of every port between every medication is not always feasible due to time constraints. The Multiport Deliver Device (MDD) combines multiple I.V. ports with at least two filters for variable fluid viscosity in an inline configuration for high flow input/output, all regulated by a high pressure check valve system.
The final presenter was James Berry, MD, an Anesthesiologist with UT Southwestern in Dallas, who discussed AGR's anesthesia gas reclamation system with shark Bill Keating, MD. This is a three-part system, including a dynamic gas scavenging system that draws off used anesthesia from a hospital's OR, a reclamation unit installed in the hospital basement, and a recycler that produces sevoflurane. As hospitals task their sustainability teams to push green initiatives, Dr. Berry said his system basically takes free waste gas and makes money.
After a brief discussion, the three sharks agreed that if they were to invest in a company, it would be HAI Solutions.  
The session was brought to Center Stage by the Foundation for Anesthesia Education and Research in cooperation with AngelMD.
Visit Anesthesiology Today Annual Meeting Edition for more articles.