---
Goodwin captivates audience with expert take on leadership qualities
She offered her unique perspective on today's challenging times.
---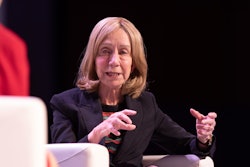 Presidential historian Doris Kearns Goodwin was the featured speaker at yesterday's ANESTHESIOLOGY 2021 Opening Session. Biography-writer of several U.S. presidents, she has a unique perspective of what makes leaders in turbulent times, and recounted the lives, actions, and thought processes of Abraham Lincoln, Lyndon B. Johnson, Theodore Roosevelt, and Franklin D. Roosevelt. Her latest book is titled "Leadership in Turbulent Times."
In a fast-paced Q&A session with ASA President Beverly Philip, MD, FACA, Goodwin shared how qualities of these presidential powerhouses might instruct and inspire anesthesiologists today.
"It is the difficult times that make us stronger," she said, referencing current political unease as well as the challenges of the specialty.
"Are leaders born or made?" asked Dr. Philip.
"A little of both," said Goodwin. But she insisted that leaders should be born with empathy, the ability to understand and feel for others. She also pointed to their ability to learn and grow over time, rather than be locked in certain thought processes. They must have humility, admit mistakes, be emotionally intelligent, and be accessible, she said.
Goodwin said she believes that empathy can be developed from experience – living in different worlds and experiencing different things. By doing so, she said one becomes less arrogant.
When facing major adversity, such that we see in the headlines today, she said leaders emerge better from tough times through self-reflection and wisdom. She said true leaders "become stronger through the broken places."
Goodwin shared stories of her "guys," as she refers to the presidents in her books. For example, Lyndon B. Johnson craved being powerful. Unfortunately, he was struck down by a heart attack when he was 46. He languished in a depression in the hospital until suddenly he sprang up and was ready to move on. When asked about the turnabout, he said he had to work on his legacy. Ultimately, he worked hard for civil rights, which is the signature move of his presidency, she said.
When asked if it is the person or the time responsible for memorable leaders, Goodwin said rather it is the leader who is successful at pivoting when he or she needs to. When WWII broke out, she recounted how FDR knew he had to win over the business community and gain their support. He worked closely with them, and they assisted by manufacturing planes, tanks, and ships in record time. Likewise, he also turned to the American people at a time when they were having to ration such things as cloth, rubber,  gasoline, and coffee. She credited his Fireside Chats with building the bridge and gaining the support of the American people. "We came through it magnificently," she said.
As for collaborating, Goodwin recounted how Abraham Lincoln spoke regularly with the three candidates he defeated on election night because they represented a differing view from his own, which gave him a better perspective for introducing the Emancipation Proclamation. FDR often said Eleanor was "a welcome thorn in his side," because she famously provided views that were different than his own, she said.
Anesthesiology is a stressful profession filled with pressure cooker situations; Goodwin presented how the presidents handled their own stress: Lincoln loved to attend the theater because it transported him to a different time and place; Teddy Roosevelt would exercise at least two hours every day, famously insisting during hikes that he couldn't go around obstacles but rather had to go over them; and FDR had a cocktail party every night and insisted that no one talk about the war.
In closing, Goodwin expressed a sincere wish that after high school, graduates would be more active in national service programs, because it would give them an opportunity to see what others experience, such as through hurricanes or other turbulent events. In doing something for the country, these young leaders could build on their empathy, have a mission, and work on a common goal, she said. 
Visit Anesthesiology Today Annual Meeting Edition for more articles.