---
Leave no patient behind
Raising the bar in acute pain management from broad-based treatment to personalized medicine to improve outcomes.
---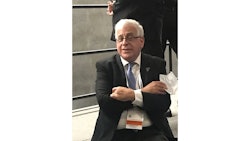 Some patients undergo surgical procedures, recover with manageable pain, and move on with their lives, while others struggle and are seemingly left behind to endure continuing pain long after leaving the hospital.
During yesterday's refresher session "Acute Pain Management: No Patient Left Behind," Eugene Viscusi, MD, Associate Professor of Anesthesiology at Thomas Jefferson University in Philadelphia, explored the importance of patient-centered care for perioperative pain management and highlighted the unique role anesthesiologists play in outcomes by viewing each patient individually.
Dr. Viscusi urged his audience to talk through what they can expect from beginning to end and allow them to have a voice in their care. In setting expectations from the beginning, you can put patients at ease and take huge steps toward managing and improving outcomes, he said.
"Our specialty has moved from the operating room to perioperative medicine," he said. Enhanced Recovery after Surgery (ERAS) is designed to provide patient-centered, procedure-specific, evidence-based pathways, which then reduces the patient's stress, optimizes their physiologic function, and helps with overall recovery. Pain control regimens should take into account the individual's medical, psychological, and physical condition; age; anxiety level, frailty; surgical procedure; personal preference; and response to agents given. 
Then, pain outcomes are more likely to be driven by the patient's own characteristics than by the type of surgery performed, Dr. Viscusi said. By ignoring the personal characteristics, he said we will leave many patients behind.  
Prehabilitation, or the physical and lifestyle preparation designed to improve recovery time following surgery, also presents the opportunity to impact outcomes. The goal is to ultimately increase functional capacity by ramping up physical activity prior to a procedure.
He advocates for moving from specialty-specific to a continuum of care, providing enhanced recovery pathways of multidisciplinary, multimodal, evidence-based care to reduce the need for opioids. The overprescribing of opioids has reached epic levels, especially in the United States, and surgery may be the trigger for long-term opioid use in many patients, he said.
Dr. Viscusi insisted that patient characteristics drive pain levels and recovery rather than the specific protocol or operation. These include anxiety, depression, major psychiatric illness, fibromyalgia or fibromyalgia-like presentation, pre-existing chronic pain or opioid use, and even gender, age, frailty, and cultural characteristics.
Previous opioid use or misuse also can play a huge factor in pain management and outcomes 
"We need to figure out who will be at risk and treat them personally," he said.
He suggested ketamine and lidocaine as considerations because they can reduce pain and nausea as well as improve functional recovery. On the other hand, patients who receive high doses of fentanyl during anesthesia have been shown to have greater pain and higher opioid requirements. He said even brief opioid exposure can have prolonged effects on pain and opioid requirements.
Visit Anesthesiology Today Annual Meeting Edition for more articles.