---
Exhibit Hall to build on Saturday's momentum
Add these key events to your ANESTHESIOLOGY 2021 schedule!
---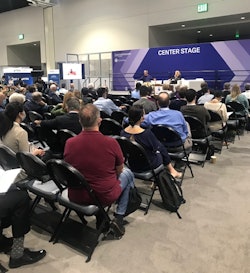 Exhibit Hall Hours:
Sunday, October 10
10 a.m.-6:45 p.m.
Sunday Happy Hour, 5-6:45 p.m.
Monday, October 11
9 a.m.-1 p.m.
Last Day Lunch, 11:30 a.m.-1 p.m.
After a two-year wait, an excited ANESTHESIOLOGY 2021 crowd took full advantage of the many activities and resources ASA and industry made available to them live in the Exhibit Hall yesterday. Droves of attendees filled the Exhibit Hall floor for the Opening Reception. Our Center Stage was a huge hit, particularly with the FAER/AngelMD Swimming With Sharks program, which featured a standing-room-only crowd. There's plenty more to come for the next two days. So make room on your itinerary to attend these events today:
NEW! Hands-On Learning
POCUS Resident Workshop
1-2:30 p.m.
This ASA session is designed to welcome trainees (only) to advanced regional anesthesia and point of-care ultrasound (POCUS) and will utilize hands-on ultrasonography with standardized patients. There are two tracks attendees will rotate through. The class will utilize a flipped class model, with each registrant being provided reading materials and videos on the topics two weeks prior to the session. There will be little to no "lecture time" during the session, instead spending the entire 90 minutes on scanning.
Resource Center Presentations
Using Social Media to Promote Your Research
Noon-12:30 p.m.
Presenters: Anesthesiology journal social media team, including Nabile Elkassabany, MD, Jorge Galvez, MD, MBI, Ruth Landau, MD, and Allan Simpao, MD, MBI
Anesthesiology Continuing Education (ACE)
5-5:30 p.m.
Presenter: Russell K. McAllister, MD, FASA
Summaries of Emerging Evidence (SEE)
5:30-6 p.m.
Presenter: Robert L. Hsiung, MD, FASA
Perioperative Surgical Home (PSH) Implementation Guide
6-6:30 p.m.
Presenters: Chris Steel, MD, Gary R. Stier, MD, FACP, MBA, CPE
NEW! Center Stage
Swimming with Sharks
10-11:30 a.m.
Provided in cooperation with AngelMD, our Swimming with Sharks sessions give anesthesiology's smartest innovators a chance to present their ideas to a panel of experts who've been involved in bringing such ideas to market. For attendees, it's a great opportunity to follow the steps involved in this process and to develop resources for their own projects.
There will be two Swimming with Sharks sessions: one for very early-stage startups (back of the napkin ideas/conceptual/pre-seed stage) and one for startups that are seed stage and beyond (e.g., series A).
The Solution to Inefficient OR Schedules
5:05-5:25 p.m.
Presented by Sponsor LeanTaaS (iQueue for Operating Rooms), this session will discuss suboptimal primetime utilization results from mismatched OR supply and demand (not inefficient turnovers). Attendees will learn that innovation is balancing the equation – delivering value for patients, hospitals, and anesthesiologists.
The Clinical and Economic Impact of Central Venous Catheters
5:45-6:05 p.m.
Our Sponsor Teleflex, with speaker Paul Marik, MD, FCCP, FCCM, will discuss:
The prevalence of infection associated with CVCs
Key decision points and application of risk mitigation strategies
Device characteristics that impact infection
Real world data-driven results of a risk mitigation approach
Making a Case for NRFit™ Connectors & Patient Safety
6:25-6:45 p.m.
Brought to you by our Sponsor Pajunk Medical Systems, you can join a conversation about new NRFit™ connectors and patient safety. NRFit is a dedicated connector for neuraxial and regional block devices defined by ISO 80369-6 to improve patient safety. Devices with NRFit connectors are not compatible with Luer connectors, reducing the risk of misconnections in regional anesthesia, preventing wrong-route medication errors that may lead to fatal outcomes. Pajunk will provide an overview on NRFit and best practices for converting your facilities from Luer to NRFit. And when you're ready to convert, Pajunk will be there to partner with you step by step.
NEW! Connection Lounge Common Interest Group Meetups
Connection Lounge 2
Women Anesthesiologists
10-11 a.m.
Hosted by the ASA Committee on Women Anesthesiologists
Education in Anesthesia
11:30 a.m.-12:30 p.m.
Hosted by the Society for Education in Anesthesia (SEA)
Critical Care Anesthesia
1-2 p.m.
Hosted by the Society of Critical Care Anesthesiologists (SOCCA)
International Anesthesia Healthcare Professionals
2:30-3:30 p.m.
Hosted by the International Forum on Perioperative Safety and Quality (ISQ)
Ambulatory Anesthesia
4-5 p.m.
Hosted by the Society for Ambulatory Anesthesia (SAMBA)
Pediatric Anesthesia
5:30-6:30 p.m.
Hosted by the Society for Pediatric Anesthesia (SPA)
Visit Anesthesiology Today Annual Meeting Edition for more articles.