---
Focusing on performance measures, but at what cost?
Performance reporting isn't going away, but is it tied to improved patient outcomes?
---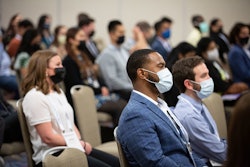 How well is your hospital or anesthesia service line performing? CMS has spent a billion dollars on performance measure development. The Merit-based Incentive Payment System (MIPS) is the current CMS pay-for-performance system.
"MIPS consists of a set of individual measures approved by Medicare that every clinician has to report," said Richard P. Dutton, MD, MBA, FASA, Chief Quality Officer at US Anesthesia Partners in Dallas, during yesterday's session, "Harnessing the Power of Performance Measurement to Improve Perioperative Outcomes."
As a leader in performance data collection, ASA has also created the National Anesthesia Clinical Outcomes Registry (NACOR) and the infrastructure to harness approved data sets required by CMS and third-party payers to redesign the health care system.
"The goal is to take a set of data, show variability across hospitals, and be able to reduce that variability, tied to financial incentives," Dr. Dutton said.
Still, the data doesn't tell the full story, and the actual value of tying the numbers to improved patient care is limited. With multimodal pain management, for example, ASA's NACOR registry data showed opportunities for improvement, but when the data became a fully approved CMS national measure, CMS vendors began adding cases to which multi-modal anesthesia didn't apply and performance declined.
"MIPS scores do help to promote evidence-based best practice, but capturing MIPS data is complicated, expensive, and largely topped out," Dr. Dutton said.
A new CMS MIPS system is in the works. In the meantime, data collection isn't going away.
"We'll always have performance measures of some kind," Dr. Dutton said. "Someone in your group has to know this stuff. You must figure out how to capture the data and send it to the Feds. Collect it in the simplest way you can."
Adding to the discussion about whether MIPS data helps improves patient outcomes, Eric Sun, MD, PhD, Assistant Professor of Anesthesiology, Perioperative and Pain Medicine at Stanford University Medical Center, said "Pay for performance has had modest effects," citing literature from the U.K. Ditto for the Affordable Care Act (ACA).
"The ACA has had the strongest effects in the sickest and poorest populations," Dr. Sun said. "Some people think health insurance reform has been a game changer for population health, but the real answer is a lot more muted. The most bang for the buck with health care reform comes from increasing the speed of research and development."
Patients will benefit the most from faster drug development and medical innovations, he said.
"It's not about what we currently know," Dr. Sun said. "It's about knowing more."
Visit Anesthesiology Today Annual Meeting Edition for more articles.