---
Embolic emergencies in labor and delivery
Hemorrhage, embolic events leading causes of maternal hemorrhage.
---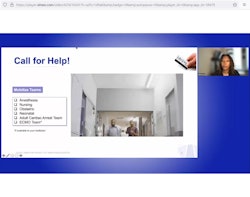 Most physiologic changes in pregnancy are protective of mother and child. But not all. That was the focus of Friday's virtual session "What to Expect When You're Not Expecting: Emergencies in Labor and Delivery."
"Pregnancy is a perfect set-up for thromboembolism," said Jason Papazian, MD, Assistant Professor of Anesthesiology at the University of Colorado. Pregnancy brings hypercoagulability, venous stasis, venous outflow issues and compression, and decreased mobility."
Risk factors include personal history, thrombophilia, hypertension, preeclampsia, and similar conditions, he continued, and is most common postpartum, decreasing earlier in pregnancy. Anticoagulation is appropriate for both prophylaxis and treatment. The American College of Obstetricians and Gynecologists has dosing guidelines that can, and should, be individualized. Thrombolysis and thrombectomy should be reserved for life-threatening pulmonary embolism.
"What is right for mom is right for baby, too," he said.
Amniotic fluid embolism (AFE) is particularly threatening. Although recognized in 1926 and described in 1941, the first survival from AFE was not documented until 1976. Whether fetal tissue in the maternal circulation is directly responsible or simply triggers a cytokine cascade and storm, AFE patients show severe pulmonary hypotension, anaphylactoid syndrome, and disseminated intravascular coagulation.
The AFE time course is variable, Dr. Papazian said, but rapid deterioration in pulmonary and cardiac function is common.
Coagulopathy is the common factor that distinguishes AFE from other life-threatening pathologies, he continued. Early anticoagulation treatment is essential, which favors point-of-care testing whenever possible.
"Resuscitation is the name of the game," he said. "In many cases, the patient might present while arresting. Anticipate hemorrhage when circulation is restored, and ECMO (extracorporeal membrane oxygenation) should be strongly considered where available."
If a patient does progress to cardiac arrest, the first step is to call for help. The patient needs not just the standard crash cart, but a defibrillator, backboard, scalpel with a #10 blade, and a perimortem Cesarean delivery kit. Because pregnant individuals desaturate quickly, the patient has between four and five minutes between cardiovascular collapse and irreparable brain tissue loss.
"The obstetrician will need to perform a Caesarian delivery and all they need to start is with a scalpel and a #10 blade," explained Allison Lee, MD, MS, Associate Professor, Columbia University. "If it is AFE, massive transfusions will be needed quickly, so launch your massive transfusion protocol (MTP). Start chest compressions right away and secure the airway."
That's where the backboard comes in. Labor beds are too soft to support effective chest compressions. Shockable cardiac rhythms are uncommon in AFE, but defibrillation is effective and safer for the fetus than lack of circulation. And depending on patient status, expect massive hemorrhage with the return of spontaneous circulation.
"Maternal hemorrhage is one of the most common causes of maternal mortality," said Andrea Traynor, MD, Clinical Professor, Stanford University. "If you see maternal hemorrhage, expect coagulopathy, which is more common in placental abruption, especially with intrauterine fetal death. You will not get the hemorrhage resolved until you deal with the coagulopathy."
Fibrinogen is the key to resolving coagulopathy, she said. Normal fibrinogen levels during pregnancy are 400-600 mg/dL. At 200 mg/dL, the risk for postpartum hemorrhage increases 12-fold. The evidence supporting point-of-care testing in detecting and treating low fibrinogen is compelling.
Fibrinogen concentrate, used off label, is the most effective agent.
"If concentrate is not available, go back to the basics, your MTP and cryoprecipitate," Dr. Traynor advised. "And don't forget calcium, which catalyzes all the enzymatic reactions we want to see."
Visit Anesthesiology Today Annual Meeting Edition for more articles.