---
Exhibit Hall: TopMedTalk today with ASA leaders
Check out today's Exhibit Hall events you do not want to miss!
---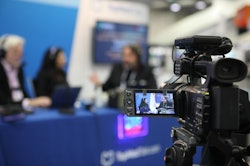 Exhibit Hall Hours
Saturday, October 9,  6:30-8:30 a.m.
and 11:30 a.m.-5 p.m.
Early Riser Coffee, 6:30-8:30 a.m.
Opening Reception and Lunch, 11:30 a.m.-1 p.m.
The ANESTHESIOLOGY 2021 Exhibit Hall opens today, and there's never been more to see and do. You can always find the full list of Exhibit Hall activities on the ASA website or under the "Exhibit Hall Events" tab on your ASA My Meeting app.
Here are some Exhibit Hall events that you do not want to miss today:
LIVE: TopMedTalk
At Booth 3241, TopMedTalk hosts Monty Mythen and Desiree Chappell, alongside their special guests, will discuss the hottest topics in anesthesiology and the latest in perioperative care. Even if you can't make it to the Exhibit Hall, you will have access to conversations with leaders in anesthesia no matter where you are, including:
·      ASA President Beverly Philip, MD, FACA, FASA, and incoming ASA President Randall Clark, MD, FASA, who will discuss ASA's strategic direction
·      Evan Kharasch, MD, PhD, Editor-in-Chief of Anesthesiology
·      Stephanie Byerly, MD, FASA, who will highlight issues related to women in anesthesiology
·      And more…
TopMedTalk is the broadcast area of EBPOM (Evidenced-Based Perioperative Medicine), which you can use to access these conversations remotely. Just go to live.ebpom.org, register with your name and email address, receive a PIN, log in, and you'll be able to enjoy hours of content.
EBPOM Education Hub
The live audio and video feed will be broadcast via the EBPOM Education Hub starting today at 7 a.m. PT and will run until the close of the Exhibit Hall at 1 p.m. PT, Monday, October 11. Previously recorded content will also be available on demand on the hub. Representatives from the EBPOM Education Hub will be live at their booth during all major breaks and events and throughout the day Saturday, Sunday and Monday. Check out the schedule of conversations at live.ebpom.org.
Visit Anesthesiology Today Annual Meeting Edition for more articles.