---
CLEAR App Is Your Key to a Safe and Hassle-free Meeting
Smooth sailing with the CLEAR app.
---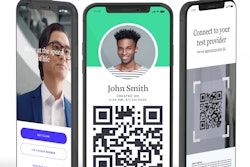 We hope you had a great travel experience in getting to San Diego, and we're so glad that you're here to experience ANESTHESIOLOGY 2021 in person! But first things first: If you have not already done so, please download the Clear app to expedite your entry into the meeting.
To participate on site, you must provide proof of vaccination or a negative PCR test result:
U.S. attendees complete your health screening now via the CLEAR app for expedited check-in and entry! 
International attendees plan to bring your printed vaccination card with you to the San Diego Convention Center. 
In addition to proof of vaccination or a negative test, masks are required for all indoor events and activities. Masks will be provided throughout the venue or you may wear your own. Read the latest health and safety measures.