---
Hope for the Warriors 15 x 15 Virtual Wellness Challenge
ANESTHESIOLOGY 2021 fundraiser benefits wounded veterans.
---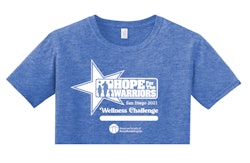 The pandemic might have changed the format of our annual Hope for the Warriors event, but it has only served to strengthen and widen its reach. In 2021, from October 1-October 18, annual meeting attendees from all over the world are taking a 15-day fitness challenge in which participants set a goal to complete at least 15 minutes of any physical activity of their choosing for a total of 15 straight days leading into the annual meeting in San Diego. Participants can also join in a virtual 5K road race to cap off their experience.
Whether you decide to run, walk, hike, bike, swim, lift, or HITT, all your physical activity minutes will be logged in a leaderboard on the ASA website so you can track your progress throughout the challenge.
Upon registration, you will be able to track your progress and will receive three emails during the week of the annual meeting:
·     Mission Monday – motivating stories of veterans and military families and the HOPE mission
·      Wellness Wednesday – tips/practices centered on mental health and emotional wellness
·      Focused Fridays – easy lifestyle adjustments to improve physical wellness.
Even if you don't participate physically, you can donate or become a fundraiser with the click of a button and let your friends and family know that you are supporting our military and their families.
Each participant has the option of adding on a T shirt for purchase when registering. The shirts will be mailed to the address provided during registration at the end of the challenge. 
Visit Anesthesiology Today Annual Meeting Edition for more articles.