---
Welcome to ANESTHESIOLOGY 2021!
A safe path to world-class programming.
---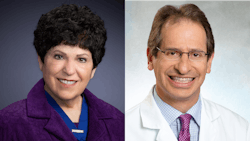 It's on! We've been counting down to this moment all year. Extraordinary efforts have gone into making this meeting safe and comfortable for every attendee. By now, most of you should be familiar with our Health & Safety guidelines and the CLEAR app process that will make moving in and out of the convention center safe, quick, and hassle-free. From sanitation, to food service, to ventilation, to masking and social distancing procedures, ANESTHESIOLOGY 2021 simply represents the industry standard for safety during the pandemic.
That means you can enjoy our world-class programming and connect with your colleagues with real peace of mind. And what an agenda we have ready for you, with 12 clinical tracks, including 32 hands-on workshops, 400 e-abstracts, hundreds of sessions that address every facet of our profession, and a streamlined Virtual Track with 24 sessions. Here are just a few highlights this year:
Leading-Edge Science: The meeting is packed with the best science and research in our specialty, from the three-hour Journal Symposium on Saturday to the always memorable Severinghaus Lecture on Translational Science on Tuesday. Explore Research Central, where you'll find featured abstracts of the latest science, discussion tables, networking opportunities, and the Academic Mentoring and Networking Center, brought to you by ASA, AUA, FAER, and the IARS.  
Impactful Lectures: Leadership is a key theme at this year's meeting and one of ASA's strategic pillars. You cannot miss our Keynote Speaker Doris Kearns Goodwin as she talks about "Leadership in Turbulent Times." Check out the full list of our Featured & Plenary Lectures – thanks to improved scheduling, you should be able to attend the majority of these talks, and will be glad that you did!
Exhibit Hall Hub: Our bustling, jam-packed Exhibit Hall is back! We've planned for the Exhibit Hall to be your "hub" for the latest products and technology from industry leaders and your go-to location for networking and non-CME education. NEW this year: "Center Stage," "Hands-On Learning Experience," and the "Connection Lounge Common Interest Group Meetups."
There are so many choices, so be sure to download the meeting app and pick up a meeting guide when you get to the convention center, and plan your experience.
We want to thank the many, many individuals involved in organizing this meeting and its terrific contents. You are about to reap the benefits of that hard work in a safe and fun environment, with learning opportunities you will find nowhere else. We can't wait to meet you in San Diego! 
Visit Anesthesiology Today Annual Meeting Edition for more articles.