---
Pierce Lecture to address anesthesia deficiencies in low-income countries
Angela Enright, MD: "If there's one thing COVID-19 has taught us, it's to open our eyes, think beyond ourselves."
---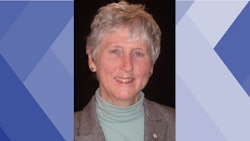 Saturday, October 9
2:30-3:30 pm
Upper 20ABC
It's difficult to fathom a patient having to forgo basic surgery due to a lack of anesthesia or access to an experienced board-certified anesthesiologist. Yet, in economically challenged countries, it's epidemic.
Angela Enright, MD, will shine a light on the extent of the problem across the globe when delivering the "Ellison C. Pierce Lecture: Anesthesia Safety in an Asymmetrical World" today. Dr. Enright is a retired consultant anesthesiologist with Royal Jubilee Hospital in Victoria, Canada.
"If there's one thing COVID-19 has taught us, it's to open our eyes, think beyond ourselves, and about the rest of the world," Dr. Enright said. "This affects simple, basic surgeries such as open fractures and C-sections as well as more serious surgeries."
Beyond a shortage of well-trained anesthesia providers and the anesthesia, there are a number of factors that affect the delivery of safe anesthesia in economically challenged areas of the world, Dr. Enright said. These factors include a lack of adequate and properly working equipment, technicians, and engineers to service the equipment, money to purchase basic supplies, and government failures to recognize the importance of anesthesia and surgery as essential parts of a health care system.
In sub-Saharan Africa and parts of Asia, for example, there aren't enough anesthesiologists for their populations. Although it depends on the country, the World Federation of Societies of Anaesthesiologists (WFSA) has created a Workforce Map to illustrate the shortage. The Lancet Commission on Global Surgery recommendation is that there should be a combined minimum of 20 surgeons, anesthesiologists, and obstetricians per 100,000 people. The WFSA suggests that at least five of those should be anesthesiologists. The reality: Nepal has 0.82 of the recommended five, while Niger has 0.07 of the recommended five. By stark contrast, the U.S. has 20.82 anesthesiologists per 100,000, and Canada has 12.42 anesthesiologists per 100,000. 
"Many countries are working to improve training and grow existing programs," Dr. Enright said. "But there's definitely an imbalance between low- and high-income countries."
Dr. Enright recounted a time in 2004 when she visited Rwanda. At the time, Rwanda had one anesthesiologist per 10 million people. Today, there are 31 per 10 million. This is thanks to efforts to provide a sustainable training program.
"It's not just lack of training and providers," Dr. Enright said. "Patients are not well monitored because economically challenged countries don't have the right monitors, such as pulse oximeters and other equipment. No U.S. anesthesiologist would ever start anesthesia without a pulse oximeter."
Price is certainly an issue, she said, as well as durability in hard conditions. Cheap equipment is not appropriate for an operating room because it does not have the necessary qualities. Equipment can't be repaired because of a lack of trained technicians.
Similarly, there is no steady supply of essential drugs, which has been further exacerbated by COVID-19, Dr. Enright said. At present, in economically challenged countries, there are more deaths related to poor surgery and anesthesia than to HIV, tuberculosis, and malaria combined, according to Dr. Enright.
Unfortunately, Dr. Enright said COVID-19 has derailed decades of work to improve all of these factors because the momentum and focus have been lost, provider numbers have dropped, and the general economics of low-income countries have been shattered.
"We are still recovering from when Ebola hit Liberia in 2014-2016," she said.
Not everyone can travel to economically challenged countries to help, Dr. Enright said. But she does have a message to share.
"Support the people, programs, and organizations in place and under way to help. There is desperate need. We're all busy physicians, but we have some capacity to help," she said.
Visit Anesthesiology Today Annual Meeting Edition for more articles.