---
Technology vs. safety
Stories of emerging medical technologies.
---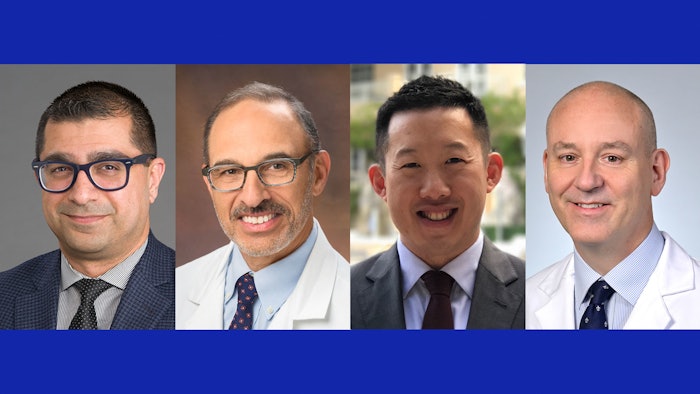 SPE18 – APSF Panel: Emerging Medical Technologies – A Patient Safety Perspective on Wearables, Big Data, and Remote Care
Saturday, October 14 | 1:15–2:15 p.m.
South 201/202
We often recall past predictions of the future and revel in the groundbreaking technology that emerges. Outside of the changes in how society communicates, the health care industry has seen one of the largest shifts in technology.
Saturday's session "APSF Panel: Emerging Medical Technologies – A Patient Safety Perspective on Wearables, Big Data, and Remote Care" will closely examine the latest advancements, associated benefits and risks, and implementation in live environments. The panel, which features experts on medical technologies across the care continuum, expands on a similar session held at the Anesthesia Patient Safety Foundation (APSF) Stoelting Conference in early September.
Wearable tech and continuous monitoring
Ashish Khanna, MD, MS, FCCM, FCCP, FASA, has watched wireless wearables, such as rings, bracelets, and portable devices, flood the health care arena. Dr. Khanna is a Critical Care Anesthesiologist at Wake Forest Baptist Health Network in Winston-Salem, North Carolina, and has implemented several of these technologies. His firsthand experience is proof that additional monitoring can provide a trove of positive outcomes. 
"We will look at what is missed by a lack of continuous monitoring, and how the data captured by new technology can help change the future and set a new precedence for patient safety, no matter where the patient or provider is located," he said.
Dr. Khanna said he does worry about the lack of regulation and standardization, as not all devices are reliable or capable. This can be especially difficult for consumers to discern. He said health care systems must require more validation data as well as complete interventional outcome studies to fully evaluate a wearable's efficacy and safety prior to implementation.
Session moderator Jeffrey Feldman, MD, MSE, an Attending Anesthesiologist at Children's Hospital of Philadelphia, agrees with Dr. Khanna. He cites outcome studies as "the holy grail."
"As we evaluate the role of these technologies in patient care, research is essential and requires careful identification and study of the populations of interest," said Dr. Feldman.
Although enhancing patient monitoring is essential and inevitable, Dr. Khanna also said he recognizes the risks associated with wearable devices and their supporting software. For example, alarm fatigue, clinician burnout, and security breaches are top-of-mind concerns that could have severe implications and negate the benefits of wearables.
"We have to be smarter in terms of patient choices, alarm settings, and alarm thresholds," he said. "We need to learn how to utilize artificial intelligence and machine learning to discover pattern detection in the large amounts of data. Lastly, we must develop strong scaffolding to handle the data load and implement in a safe and secure manner."
How to harness big data
The impact of implementing new technology is often immediately evident in individual patient outcomes. But, in the long term, it also extends to the stream of never-ending data that supports health care systems. Jonathan Tan, MD, MPH, MBI, FASA, said safety is of utmost importance, and the best way to ensure this is by analyzing new and existing data in a way that is beneficial and productive. Dr. Tan is Assistant Professor of Anesthesiology and Spatial Sciences at the Children's Hospital Los Angeles and the University of Southern California. 
"Health care systems and delivery are so complex and dynamic," Dr. Tan said. "The benefit of using technology tools, such as artificial intelligence, is to help systems and professionals scale the way we practice so we can be safer and more efficient. Developing and adopting [these tools] into daily practice will dramatically transform the way we care for patients now and in the future."
This is extremely challenging, though, said Dr. Tan, because of everyone involved and everything that must be taken into consideration. It requires a balance of speed and accuracy, innovation, and establishment. There must be testing cycles, constant user feedback, and scientific supervision.
"Achieving that next level of patient safety will require a new collaborative ecosystem of health networks, care teams, data scientists, and specialists in implementation science and change management working together to support the clinical use of artificial intelligence and other health care technologies," he said.
Artificial intelligence (AI) and machine learning should allow providers to spend more time with patients. Another essential consideration is how AI can help reduce – and hopefully eliminate – health disparities, said Dr. Tan. In fact, Dr. Feldman shared an example of pulse oximeter technology that is currently under review for its possible bias against patients with dark skin tones.
"A key piece of evaluation will be to make sure that emerging technologies are analyzed for their ability to introduce bias, especially across race, ethnicity, socioeconomic status, and important social determinants of health," Dr. Tan said. "Furthermore, [they] must also demonstrate that they are better, faster, and safer than the status quo." 
Improving care anywhere
The third area of notable medical technology advancement is remote patient care management. Hospital information services and clinical teams frequently shoulder much of this burden.
Michael Scott, MB, CHB, FRCP, FRCA, FFICM, will present the TeleICU EMR platform built during the COVID-19 pandemic that generated high reliability for his health system. Dr. Scott is Professor of Anesthesiology and Critical Care Medicine at the University of Pennsylvania in Philadelphia. Key features include escalating smart alarms to improve efficiency and a high-resolution, two-way camera that creates situational awareness and aids clinical decision-making.
"We have made the interface very user-friendly with a graphic interface of trends and deltas, which means users can see what is going on at a unit level and an individual patient level," Dr. Scott said.
Integrating new technology into an existing EMR is fundamental to success and prevents an increase in provider workload. Dr. Scott said he also suggests piloting the new system before completing a widespread implementation as well as scrubbing big data to present information that is "meaningful and manageable."
The last word
As moderator of the panel, Dr. Feldman summed up both sides of the coin when it comes to evaluating and employing emerging medical technologies. 
"The potential impact on patient care is a double-edged sword," he said. "While these technologies are sophisticated and powerful, they will not necessarily address the fundamental problems facing health care in the United States, which technology has failed to address in the past. These include high cost of care and poor outcomes compared to similar wealthy countries, limited or no access to health care for much of the population, and a shortage of providers and high risk of burnout. 
"It is important to consider whether we are addressing the central challenges or just adding cost and complexity to an already overburdened system," said Dr. Feldman.