---
Neuromuscular monitoring? There's an app for that
Your iPhone is a valuable monitoring tool.
---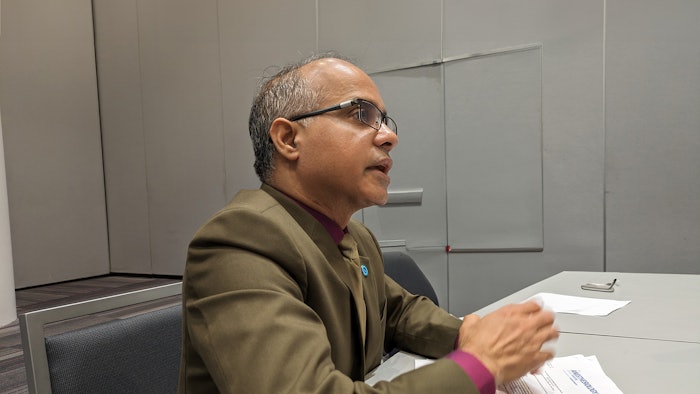 L221 – Turn Your Iphone Into a Quantitative Neuromuscular Monitor
A quantitative neuromuscular monitor is not cheap, and many of them that have been marketed in recent years are often reserved for researchers. But odds are you have a device in your pocket right now that will get the job done at no extra cost to you or your practice.
Ratan Banik, MD, PhD, Associate Professor of Anesthesiology at the University of Minnesota in Minneapolis, worked with a team to create a free iPhone app that can accurately measure the train-of-four ratio.
"It is for people who don't have access to the quantitative neuromuscular monitor," he said. "Big practices can afford it, but I don't think every practice can afford it."
Dr. Banik engaged in a discussion with several interested anesthesiologists regarding the app and its potential uses in Sunday's session, "Turn Your Iphone Into a Quantitative Neuromuscular Monitor."
He explained that the app, which can be found by searching "Train of Four Anesthesia" on the Apple App Store, works by using the built-in accelerometer of the iPhone. The accelerometer has been traditionally used to measure things like steps, but Dr. Banik and his team saw more potential.
"It is the same iPhone chip that counts when you take a step," Dr. Banik said. "At the end of the day, you can see how many steps you've taken, and the iPhone counts it. With the accelerometer chip, it also counts the vibration of the hand, so when you stimulate it with a train-of-four, you can quantitatively measure it in real time."
The app works by securing the phone to the patient's hand and then stimulating it.
"You use a Velcro strap on the patient's hand to hold the phone in place," Dr. Banik said. "You put the phone in the patient's hand and stimulate the hand with a traditional stimulator, and the app will give you the real-time value of the train-of-four ratio."
If you don't have Velcro, Dr. Banik said adhesive tape will do, but he's had the most consistent results using Velcro.
Unfortunately for non-iPhone users, Dr. Banik said there are no plans at this time to expand the app into other phones.
Train-of-four monitoring is especially important in the wake of new guidelines recently published by ASA, which recommend confirming a recovery of train-of-four ratio greater than or equal to 0.9 before extubation. Patients with an adequate spontaneous recovery to a train-of-four ratio greater than or equal to 0.9 can be identified with the type of quantitative monitoring performed by the app and do not require pharmacological antagonism, according to the guidelines.
And if that's not enough, Dr. Banik said the app can also be used on the patient's foot.
"This thing is so sensitive," he said, holding up his iPhone. "You can strap it or tape it (there) and you'll get a good reading."