---
Anesthesia's whole new world
Three drug categories for perioperative consideration.
---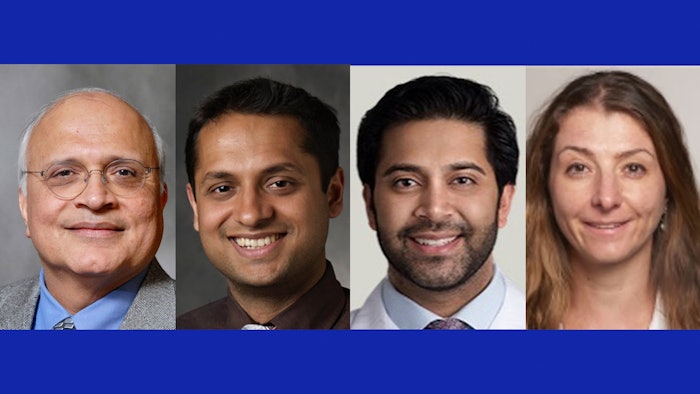 PN127 – Breaking News: GLP-1 Agonists, SGLT2 Inhibitors, CNS Stimulants – Perioperative Implications
Saturday, October 14 | 1:15-2:15 p.m.
South 205/206
Groundbreaking developments in three drug categories offer new thinking in perioperative care. This afternoon's session, "Breaking News: GLP-1 Agonists, SGLT2 Inhibitors, CNS Stimulants – Perioperative Implications," will bring together a diverse panel of experts to examine recent advancements with proven benefits – and potential concerns – across anesthesia and all medicine. Session moderator Kumar Belani, MBBS, MS, FACA, FAAP, SAMBA-F, said anesthesiologists should be aware of the valuable insights and possible perioperative outcomes of these medicines.  
"During this panel, our experts will dissect the multifaceted impact of these medications on anesthetic care and patient safety, offering a comprehensive overview of their perioperative implications," said Dr. Belani, Professor of Anesthesiology at the University of Minnesota in Minneapolis. 
SGLT2 inhibitors
When the U.S. Food and Drug Administration (FDA) approved sodium-glucose cotransporter-2 (SGLT2) inhibitors a decade ago, it transformed type 2 diabetes mellitus treatment. The innovative class of oral medicines includes canagliflozin (Invokana), dapagliflozin (Farxiga), empagliflozin (Jardiance), and ertugliflozin (Steglatro).
Session speaker Jai Madhok, MD, will examine the properties of SGLT2 inhibitors, particularly lowering glucose for diabetes patients, improving cardiovascular outcomes to manage heart failure in patients who have preserved or reduced ejection fraction, and, more recently, helping to prevent kidney failure in patients who have chronic kidney disease. Dr. Madhok is a Clinical Assistant Professor of Anesthesiology, Perioperative and Pain Medicine at Stanford University in Stanford, California.
"As a result of these benefits, the use of SGLT2 inhibitors has increased substantially over the past few years, and we are more likely to encounter these medications in the perioperative window," said Dr. Madhok.
Building on this, Dr. Madhok also will assess the perioperative implications, including the increased risk of euglycemic diabetic ketoacidosis. Currently, the FDA recommends a suspension of SGLT2 inhibitors three to four days prior to surgery to avoid potentially hazardous side effects. However, this is not always possible, said Dr. Madhok.
"Implementation of these recommendations requires education of the entire perioperative team, including patients, surgical clinics, preoperative anesthesia clinics as well as inpatient care teams," he said. "Further, these medications may not be able to be held in time for urgent or emergent operations, necessitating the development of postoperative care pathways for monitoring patients who were taking these medications until the day of surgery."
GLP-1 agonists
In addition to SGLT2 inhibitors, several drugs have been developed and approved to treat diabetes in the category of glucagon-like peptide-1 receptor agonists (GLP-1 RAs). Govind Rangrass, MD, will discuss the favorable outcomes of these medicines, including reduced HgbA1C, lowered risk of hypoglycemia, and substantial weight loss, which have led to a surge of popularity in nondiabetic patient populations. Dr. Rangrass is Associate Professor of Anesthesiology and Critical Care at Saint Louis University School of Medicine in St. Louis.
Diving further into the pharmacology of this drug class, Dr. Rangrass will shed light on its perioperative repercussions – a largely unknown territory. At the top of this list is whether patients taking GLP-1 RAs are at higher risk for aspiration and whether they should adhere to a different nothing-by-mouth (NPO) policy prior to surgery.
"In response to a growing concern related to observed delayed gastric emptying and anecdotal evidence reporting increased likelihood of residual gastric content, the ASA Task Force on Preoperative Fasting issued guidance in June 2023," said Dr. Rangrass.
"The task force recommended evaluation of patients on GLP-1 RAs for GI symptoms such as bloating, vomiting, or abdominal pain prior to proceeding with elective procedures, and, in the absence of concerning symptoms, to proceed with 'full stomach' precautions after discussing the risks of aspiration with the patient and proceduralist," he said.
Dr. Rangrass expressed the need for further studies and formulated strategies to help manage the evolving perioperative effects of GLP-1 RAs. Examples include identifying patients at high risk of aspiration prior to surgery, managing patients with diabetes who may benefit from drug cessation, and reporting adverse events.
CNS stimulants
Finally, Zdravka Zafirova, MD, will explore some of the current and most common central nervous system (CNS) stimulants. Dr. Zafirova practices Critical Care Anesthesiology at Mount Sinai in New York City. 
This particular group of drugs is known to treat a host of neurologic-based conditions, such as attention deficit hyperactivity disorder (ADHD), certain eating disorders, and sleep disorders like narcolepsy. In addition to their effects on neurotransmitters, such as dopamine and noradrenaline, Dr. Zafirova said CNS stimulants may also produce cardiovascular effects, including an increase in heart rate, blood pressure, and arrhythmia.
Traditionally, she said this has led clinicians either to suspend the use of CNS stimulants in the preoperative environment or to alter anesthesia requirements, with the goal of preventing cardiovascular events or anesthetic overdose. Dr. Zafirova will explore why and when continued CNS stimulant treatment in this space may also prove beneficial.
"Despite the extensive use of these pharmacotherapies in clinical practice, large-scale studies of their perioperative impact are lacking," said Dr. Zafirova. "Recent case reports and small studies have indicated that patients taking clinically prescribed CNS stimulants can continue these medications and can safely undergo anesthesia and surgery."