---
Lower mortality rates, better outcomes rest on perioperative patient care
New technologies engage patients earlier on in the surgical process
---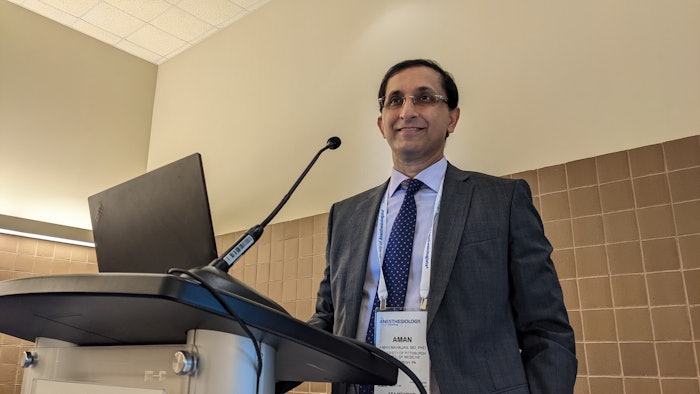 304 - Innovations and Advances in Perioperative Management of Surgical Patients
Monday, October 24, 2022
Patient care during surgery is critical. That's a given. But patient care in the weeks leading up to surgery can be equally critical in ensuring better outcomes. Anesthesiologists armed with new technology can play a key role in that process.
Aman Mahajan, MD, PhD, MBA, Professor and Chair of the Anesthesiology Department at the University of Pittsburgh and Senior Medical Advisor at University of Pittsburgh Medical Center Enterprises, said that while anesthesiology has been innovative in terms of advancing care for patients over the past century, there are areas where the specialty can improve perioperative care.
Speaking during the Monday session "Innovations and Advances in Perioperative Management of Surgical Patients," Dr. Mahajan said there are several areas where perioperative care can be improved, including lifestyle modification before surgery, segmentation of patients, the use of data and digital technology for quality improvement, and standardization of in-hospital perioperative care.
"All of these areas could be initiated within the preoperative period," he said.
To address those areas, Dr. Mahajan said that anesthesiologists must first look at the predictors of preoperative risks and focus on those that are modifiable, such as anemia, diabetes, alcohol consumption, and smoking.
Citing the specific example of anemia, Dr. Mahajan explained that a preoperative anemia management program can reduce blood transfusion in elective cardiac surgical patients, improve outcomes, and decrease the length of their hospital stay. Another example he cited was frailty, which is more common in older patients undergoing surgery. There are several rapid screening tools that can be used for frailty assessment in patients, many of which can be done in a short amount of time.
"In our practice, we want a test that can be administered very quickly – less than five minutes or so," he said.
Using perioperative care – or what Dr. Mahajan referred to as prehab – can also reduce postoperative delirium in older patients.
"Anesthesiologists can actually make a significant impact in this area, both prior to surgery and after surgery," he said. "One might say we don't necessarily have time to do these things, but technology is advancing and there are a few virtual and telehealth platforms that are available. The beauty of these things is that they can actually be administered to the patient at home."
There are other technological advances – including artificial intelligence, machine learning, smartphone apps, and wearable technology such as remote monitoring tools – that can be invaluable in the preoperative stages of patient care, Dr. Mahajan said, adding that anesthesiology and health care in general must catch up to consumer-friendly technology.
"When we talk about consumerism driving technology, that's a big part of this thing," he said. "Traditional health systems have been far behind the consumer adoption of technology in the non-health care space. Millennials are now 40 years old and Gen X even older, and they're all used to on-demand services. Their desire to get on-demand (health services) is going to resonate with what they expect of other consumer services as well."
Visit Annual Meeting Daily News for more articles.