---
Is narcotic-free anesthesia still the goal?
The debate cools over opioid-free anesthesia
---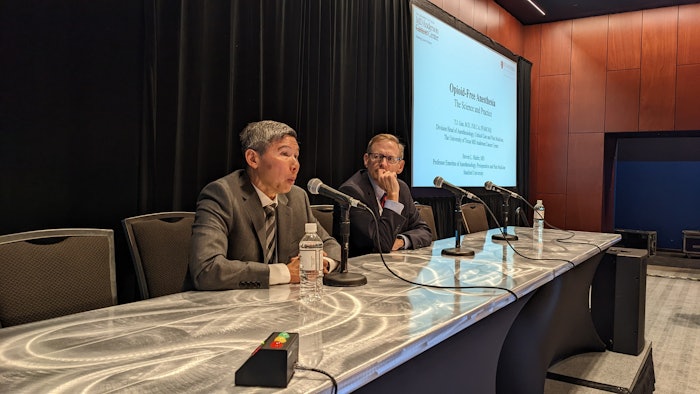 PC201 - Narcotic Free Anesthesia Should Be the Gold Standard for Ambulatory and Office-based Anesthesia
Sunday, October 23, 2022
While there is still some discussion over whether anesthesia should be free of narcotics, the debate isn't as stringent as it was a decade or more ago. In fact, more research points to a balanced approach going forward.
Talmage Egan, MD, FASA, Chair of the Anesthesiology Department at the University of Utah Health Sciences Center in Salt Lake, said that before the discussion can continue, the terminology needs to change.
"We should probably be referring to opioids rather than narcotics," Dr. Egan said. "Narcotics is really a legal term, whereas opioid is a pharmacological one."
Speaking at the Sunday point-counterpoint session "Narcotic Free Anesthesia Should Be the Gold Standard for Ambulatory and Office-based Anesthesia," Dr. Egan said the issues surrounding opioids in the U.S. have evolved dramatically in the past 15 years.
"We wouldn't have had this session 15 years ago," he said, "because our society had not been experiencing the problems we are now having with opioids."
Dr. Egan said there is little to no evidence suggesting that intraoperative use or postoperative use of opioids leads to opioid dependence in the patient down the road. So instead of going completely opioid-free, he thinks there will be a movement toward a more hybrid approach.
"If you do a multimodal, analgesia-enhancement ERAS protocol, these are associated with lower postoperative use (of opioids) and also out-of-hospital use," he said. "But interestingly, if you do an opioid-free ERAS protocol after certain kinds of surgery, there's decreased intraoperative opioid use. But this doesn't translate to lower opioid prescribing practices at hospital discharge."
Dr. Egan said that although opioid scripts have gone down over the last 10 years, opioid deaths are still on the rise.
"We're trying hard as physicians to not be giving out opioid prescriptions, and we've probably done all we can," he said. 
Although he was supposed to present a counterpoint to Dr. Egan, T.J. Gan, MD, MBA, MHS, FRCA, FASA, Division Head of Anesthesiology, Critical Care and Pain Medicine at the University of Texas MD Anderson Cancer Center in Houston, reached similar conclusions.
"Is opioid-free anesthesia even possible?" Dr. Gan said. "The answer is yes, of course it's possible. But while it is possible, is it advisable?"
The answer to that question is a complicated one. Dr. Gan highlighted several questionable studies on the potential of opioid-free anesthesia and said it is really a question of whether there is enough evidence to suggest that this approach is feasible and appropriate for routine operations.
"Based on all the literature, there is insufficient data to determine the benefits and harm of opioid-free, interoperative anesthesia and postop analgesia compared to perioperative opioid minimization," he said. "There was really no evidence that opioid-free is better."
Ultimately, Dr. Gan said his conclusions based on that available research are similar to Dr. Egan's.
"Instead of saying no opioids, we should use an opioid-sparing anesthesia in combination with regional techniques," Dr. Gan said.  "And postoperatively [we should be] using multimodal analgesic techniques minimizing opioid use because we know opioids are associated with significant adverse effects."
Visit Annual Meeting Daily News for more articles.