---
Change is coming
Is anesthesia's fourth branch headed our way?
---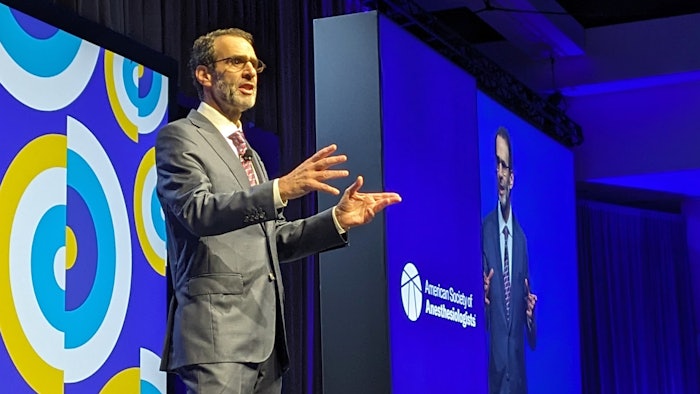 SPE02 – Emery A. Rovenstine Memorial Lecture – The Gathering Storm
The future of anesthesiology could be found in a new practice branch that doesn't yet exist, but the profession should act quickly to bring it to reality.
Speaking at Monday's "Emery A. Rovenstine Memorial Lecture – The Gathering Storm," Daniel Sessler, MD, Michael Cudahy Professor and Chair at the Cleveland Clinic in Ohio, said that in order to avoid a potential shrinkage of jobs in the coming years, anesthesiology should look toward intensive postoperative care as a new specialty.
Dr. Sessler said industry challenges, particularly a potential decline in the number of surgeries currently being performed in the country, may mean anesthesiology will need to reshape and rethink to adjust.
Yet, Dr. Sessler sees a solution and encouraged attendees to act now. He urged a profession-wide pivot toward intensive postoperative care.
Postoperative patient monitoring is one area where anesthesiologists could naturally excel. Dr. Sessler said too many patients are lost each year due to inadequate monitoring and that the current system is outdated, using the same four- to six-hour interval method that was in place 50 years ago. Continuous monitoring generates a dense stream of data that mid-level providers don't have the time or the training to monitor.
"Who's really good at investigating continuous streams of data? It's us, of course. This is our core competency. This is what we're really good at," Dr. Sessler said.
Another area where anesthesiologists can play a key role is postop medical management. Dr. Sessler said the profession is perfectly suited to do more than just monitor the medical problems of postop patients.
"We understand the surgical side and we understand the medical side and we are well-positioned to deal with patients' medical problems and actually fix things," he said. "I'm not talking about just barely getting them through their hospitalization. I'm talking about really taking care of their medical problems, many of which are poorly managed or hardly managed at all." 
Dr. Sessler said he believes a fourth branch of anesthesiology could save tens of thousands of lives every year. But the profession must take steps to get there now before it's too late.
"We need a fourth branch of anesthesia, and we have a one-time opportunity to get it," he said. "Because other fields are already moving into postoperative care – hospitalists, for example, and internal medicine. If we're going to have this deal, we need to take it now because if we wait until we need it, it's not going to be there."