---
Secrets of the heart
Anesthesia tips and tricks for managing cardiac patients.
---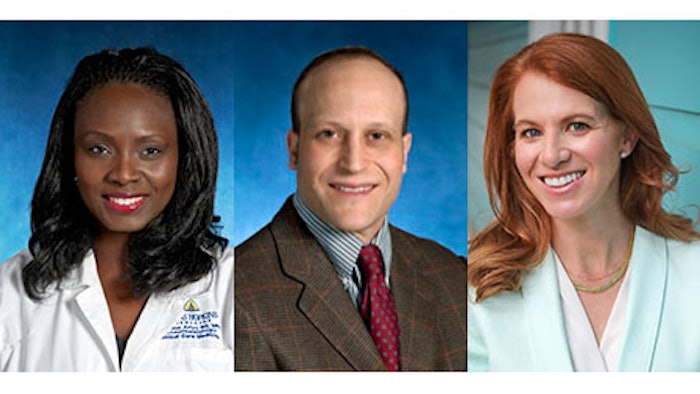 PN41 – Cardiac Secrets for Non-Cardiac Providers – Practical Advice From the Experts
Tuesday, October 17 | 11:15 a.m.-12:15 p.m.
South 104/105
Patients with significant cardiopulmonary disease can be a challenge for anesthesiologists, even when they are undergoing noncardiac procedures. This is especially true of the anesthesiologist who is not cardiac trained.
Promise Ariyo, MD, MPH, Assistant Professor in Cardiac Anesthesia and Critical Care at Johns Hopkins University School of Medicine in Baltimore, Maryland, said a number of questions arise when anesthesiologists find themselves facing one of these cases. In this morning's session, "Cardiac Secrets for Non-Cardiac Providers – Practical Advice From the Experts," Dr. Ariyo will lead a panel discussion with four experts aimed at answering some of those questions.
What are the best anesthesia induction agents for patients with significant cardiopulmonary dysfunction? What are ideal hemodynamic monitors for patients with significant cardiac dysfunction? How do you manage severe aortic stenosis? When do you call for intraoperative echocardiogram for unstable patients?
Laeben Lester, MD, Assistant Professor of Anesthesiology and Critical Care Medicine at Johns Hopkins University School of Medicine, said there are a few tips and tricks anesthesiologists should know when dealing with sedation for high-risk patients – starting with knowing their ABCs.
"First, you should anticipate the effects of sedative and anesthetic agents on the ABCs (airway, breathing, and circulation)," he said. "Because high-risk patients have no reserve – you have to stay ahead. You should also use inotropes and/or vasopressors early and often to mitigate the cardiovascular effects on the ABCs. And use multimodal anesthesia to decrease the effects of propofol on the ABCs."
Using rescue echocardiography during perioperative emergencies can have its advantages and disadvantages. Kelly Ural, MD, FASA, Residency Program Director for Ochsner Health Department of Anesthesiology and Perioperative Medicine in New Orleans, Louisiana, said rescue echo can be "another tool in the anesthesia toolbox" when patients are experiencing hemodynamic instability.
"The benefits are that you can see, in real time, what's happening with the heart and quickly diagnose things like hypovolemic shock, wall motion abnormalities, and right ventricular failure due to pulmonary embolus, to name a few," she said.
One of the biggest disadvantages, Dr. Ural explained, is you need to have the equipment readily available for use.
"This isn't usually a problem in large academic centers, but some smaller private practice groups may not have their own TEE equipment," she said. "Secondly, you have to be trained to do this, and if you only wait until emergency scenarios occur to practice your skills, you might not be comfortable making the diagnosis."