---
A fast update
Anesthesiology reviews new fasting guidelines.
---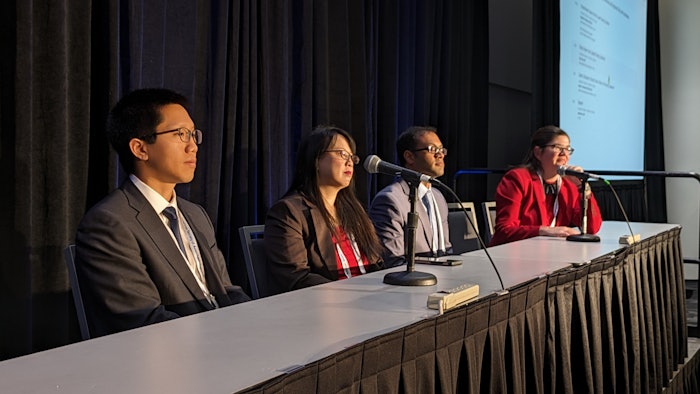 PN108 – From the Old to the New: Fasting Guidelines and Aspiration Risk with Anesthesia
New guidelines for fasting and anesthesia underwent a rigorous review before being published in Anesthesiology in February 2023. That review and subsequent update served as the foundation for Saturday's session, "From the Old to the New: Fasting Guidelines and Aspiration Risk With Anesthesia."
Catherine Kuo, MD, an Anesthesiologist at Advocate Health in Milwaukee, Wisconsin, was part of the group that helped write those guidelines, and she said they were developed using the Grading of Recommendations, Assessment, Development, and Evaluation (GRADE) methodology as a framework.
"It's an actively worked-on model that's used by a lot of people," she said.
Dr. Kuo walked session attendees through the process of creating the new guidelines and some of the areas they examined, including the benefits and harms of protein-containing clear liquids for adults undergoing elective procedures.
Bryan Chow, MD, Resident Physician at Duke University in Durham, North Carolina, said all the protein-containing liquids in the studies reviewed before creating the guidelines did contain some amounts of carbohydrates, which affected the results but not enough to cause any major concern. Ultimately, he said the research found there was no difference in hunger, thirst, or preoperative nausea in patients who consumed protein-containing clear liquids compared to those who were fasting. However, he cautioned that more studies are needed.
"The overall recommendations for protein clear liquids are that there is insufficient evidence to recommend protein-containing clear liquids over other clear liquids, and the strength of the evidence in these studies was very low," he said.
One area that was not addressed in the new guidelines was GLP-1 agonists, which are becoming increasingly popular in weight loss drugs such as Ozempic. While there is growing concern over the potential side effects of these drugs on anesthesia patients, Elizabeth Malinzak, MD, FASA, an Anesthesiologist at Duke University Hospital in Durham, North Carolina, said there isn't enough evidence yet for anyone to issue a definitive guideline.
"The truth is there is just no evidence," said Dr. Malinzak. "Most of what we hear is anecdotal. Patients should be off of it for five weeks to have a complete termination of effect, but that's just not practical in our world."
Rohesh Fernando, MD, FASE, FASA, Associate Professor of Anesthesiology at Wake Forest Baptist Health in Winston-Salem, North Carolina, made the case for incorporating gastric ultrasound in future guideline updates. He said there doesn't need to be a debate between using only gastric ultrasound or using only NPO cutoff times. Instead, he believes that a compromise can be reached.
"What I propose is that there be a middle ground, and I think in cases specifically where there is uncertainty, gastric ultrasound can be useful," he said. "I'm not proposing eliminating NPO cutoffs and I'm not proposing just ignoring them when patients are not adhering to NPO guidelines. We should always prioritize patient safety. What I would propose is that it would be nice if the guidelines would put in an endorsement for gastric ultrasound."